Become a co-owner in Norwegian Energy?
Become a co-owner
Price per share: NOK 20
(minimum subscription 500 shares)
WE TAKE ON THE COMPETITION WITH COLA AND RED BULL WITH SUNN NORSK ENERGI.
Until now, co-owners in Norwegian Energy have:
Total invested: NOK 5,000,000 +
Number of co-owners: 240 +
Number of shares: 3,184,630 out of 3,934,630 (81% fully subscribed)
Smallest drawing

500 Aksjer (10 000 NOK)
Brief introduction to Norwegian Energy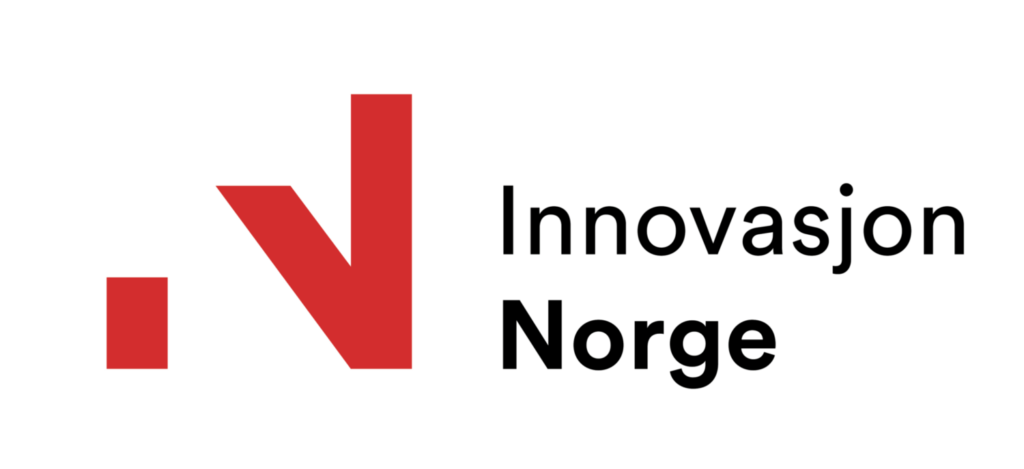 News flash!
Innovation Norway Arctic steps in and supports the development with NOK 700,000. And will continue to participate
We challenge the international giants with clean energy from the north!
Join the development. You can contact Mads Bækkelund directly on 92163985 or mads@norwegianenergy.com to discuss opportunities, or sign up here:
While traditional energy drinks risk injunctions and bans in some countries, we go the other way and offer nutritious and tasty energy drinks that give you better health and build your immune system. This can be a good point in difficult times. We have rational production and want to be "the people's drink". Become a co-owner in a Norwegian company that is well equipped for an upcoming global megatrend, with sustainable healthy drinks.
Real crowd funding

Unlike crowdfunding platforms, which take 5-10% of your money plus a larger cash fee for administration, here 100% of your money goes directly to the company you invest in. You get immediate access to the management and can ask the questions you want. And you become part of the team, actively or passively. The company owes no taxes or duties and you invest in the company Norwegian Energy AS.
Check this video with more information about energy drinks and here
Norwegian Energy compared to other competitors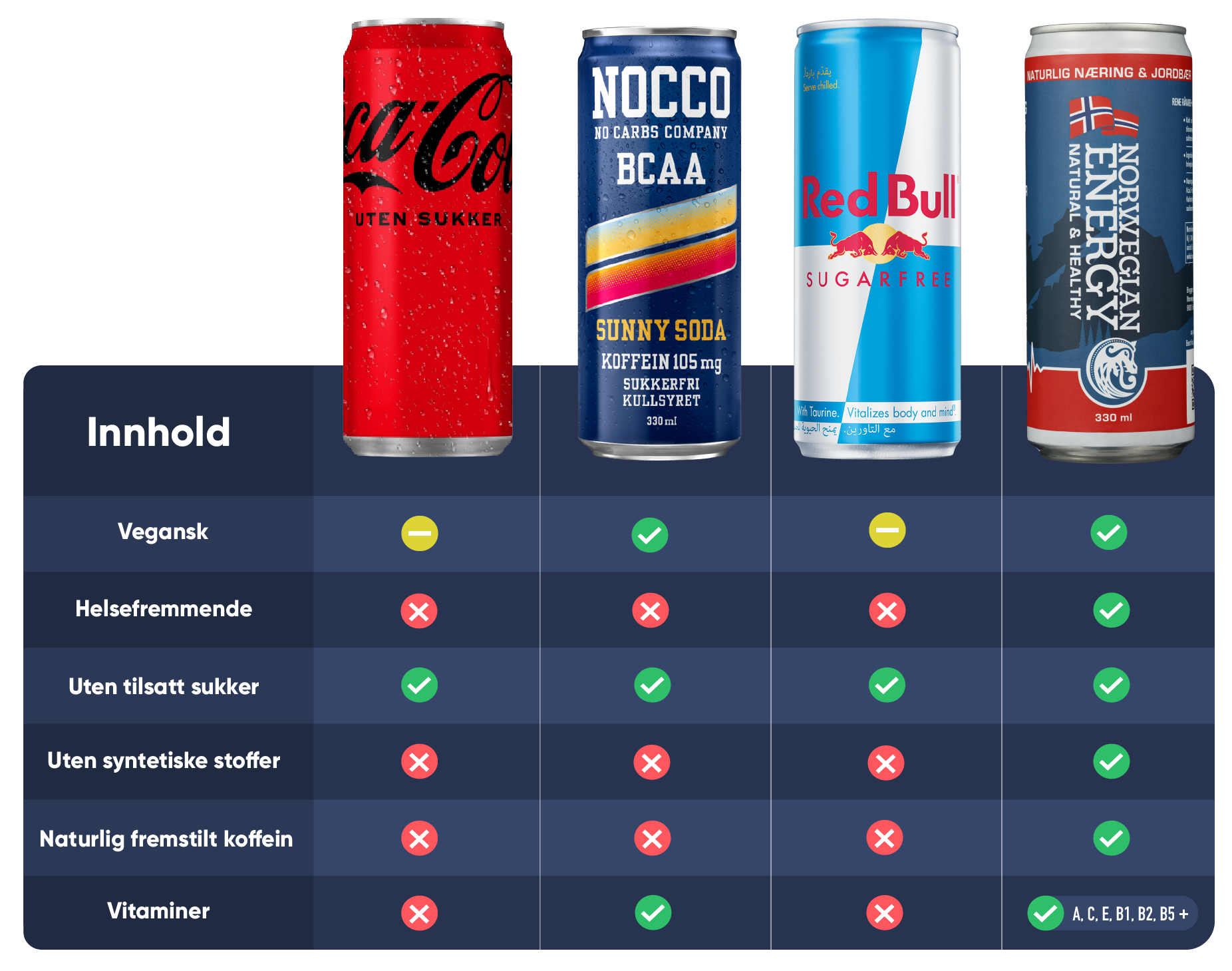 Why you should invest in Norwegian energy now?
Norwegian Energy AS has 0 bank debt and 0 tax debt, all investments are expensed and paid for through operations.

We have finished 4 different perfected drinks with healthy Norwegian energy that provide better health. Our drinks will go out and compete with, among other things, red bull and cola, and we are now ready to scale up.

Every year, Google grants partnerships with some selected companies that get free access to global market analysis and campaigns, we are one of them.

New board and management on the way in with backgrounds from farming, groceries and brewing. Founder Mads Bækkelund takes over the role of marketing manager.

Team with nutritionist, SoMe coordinator and sales agents on the way in.

A unique factory for maritime raw materials is being built by the Lyng Alps.

Norwegian Energy launches its own bonus and tour club: THE FJORD EXPLORER CLUB https://norwegianenergy.com/fjord-explorer-club/ where we build loyalty, where members can follow the stories we create, buy "merchandise" and take part in healthy trips. Mads is also planning new TV series.

New international websites and online store have been opened.

Norwegian Energy should have a market share of at least 10% in Norway, which corresponds to a turnover of around 500 million here. The ambitions are the same in the countries where we establish ourselves internationally.
New factory in the heather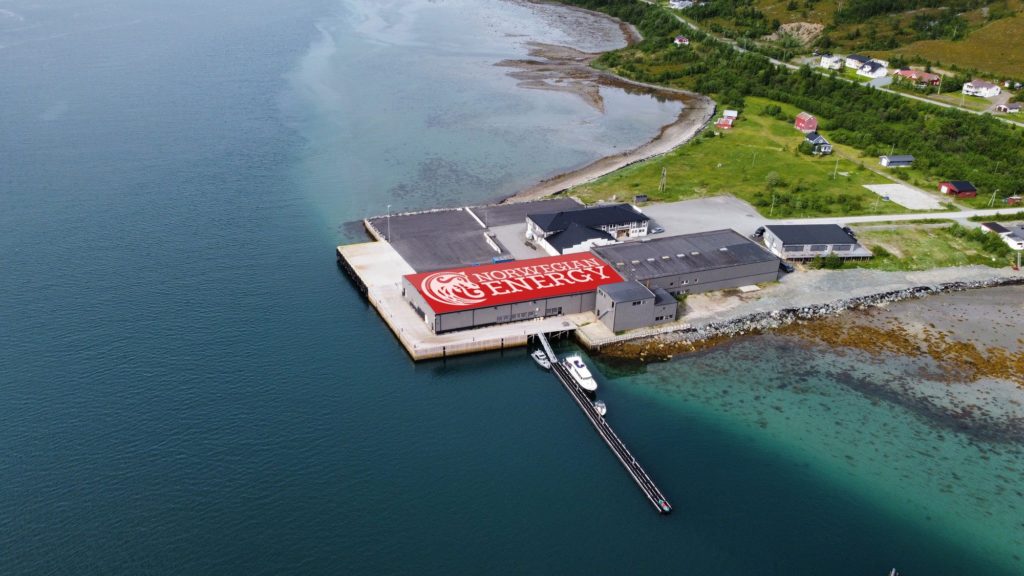 The picture shows the planned factory in Nord-Lenangen in Lyngen (1.5T north of Tromsø), which will be heavy on research and development of marine residual raw materials such as fish protein, omega 3 and seaweed & kelp, and we will work closely with the farming industry. The raw materials are mixed into Norwegian Energy, and replace dietary and vitamin supplements. The factory will produce raw material in powder form to be sold in 25 kilo barrels, which mixed with juice is enough for 4,000, 0.33 dl cans. We work closely with foreign breweries that use our powder when they produce Norwegian Energy themselves. The breweries will bottle and distribute the finished beverage on their own. A brewery and brand handbook will assist the breweries in production.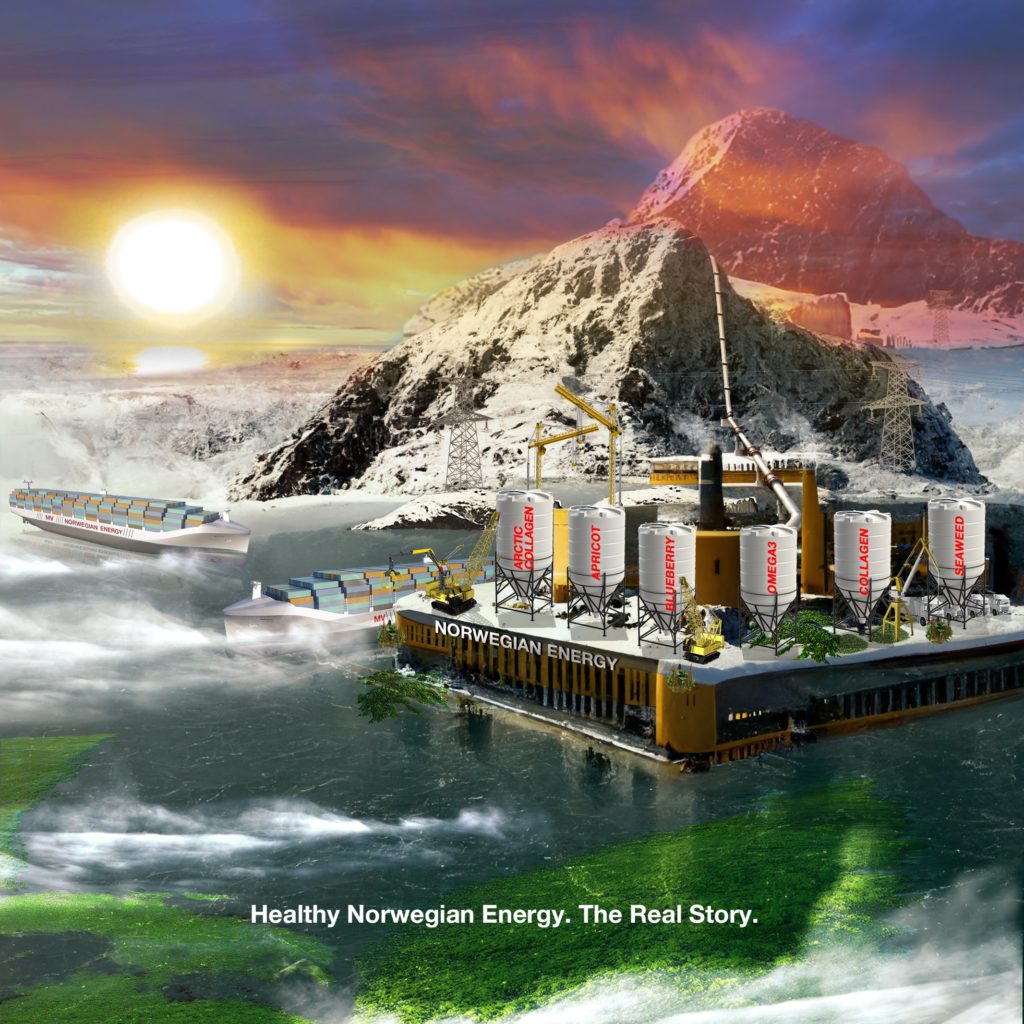 Do you want to help challenge the big international breweries?
Has no added sugar (only natural fruit sugar)
Contains only pure raw materials, without synthetic E-substances
Can provide better heart health and strengthen the immune system
Gives an energetic push in everyday life
Is a delicious thirst quencher
Makes a statement that you are an active, positive person who takes your own health and the community around you into account
We are proud to be the first to come up with this unique idea, and there will soon be several new variants of Norwegian Energy on the market.
Dagens Næringsliv has made the following analysis of the energy drink market – which reveals an international multi-billion market, which in Norway alone has a turnover of 4 billion annually (2022). A global analysis has also been carried out, which you can see here . Still, it is not right to put Norwegian Energy in a booth with unhealthy energy drinks, as we want a market position and market mix that puts us in the middle between Coca Cola and Red Bull and is the third major beverage segment.
We have a growing presence in the Norwegian market, and will now expand towards new international markets. You can also follow our store map to find the store nearest you in Norway that offers Norwegian Energy. We now offer you the opportunity to become a co-owner and partner in the parent company Norwegian Energy AS (reg. no. 918842454) with associated sister company Marin Energy AS (reg. no. 925327719). The main task of Marin Energy is to produce the raw materials used in the energy drinks, while Norwegian Energy focuses on representing and selling the brand in the best possible way.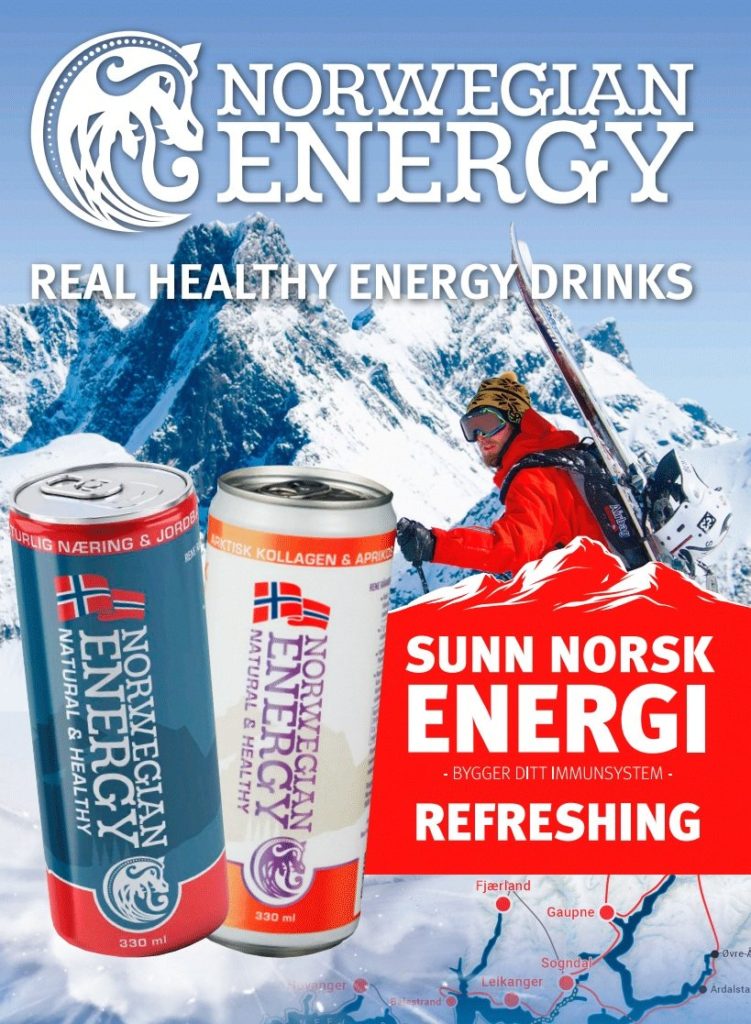 Norwegian Energy has been tested and fully developed on the Norwegian market. We possess great expertise, formulas and technology that are ready for industrial scaling, and are now ready to go from "start up" to "scaleup". We now do the following;
Norway: Establishes telephone sales with "Industry orders", which will give us rights to place orders ourselves on behalf of the stores, today we have to visit each store and they have to place orders themselves. We employ a telemarketer who has contact with 30-40 stores a day. We will increase store sales to 15 million in 2023.
LONG-TERM GOAL: 10% of the global energy drink market. Additional focus on sound health.
Shareholders' agreement: A shareholders' agreement will be agreed which ensures that other shareholders have pre-emptive rights at market price, if existing shareholders want to sell out and how the shares are to be valued in the future. The company otherwise complies with Norwegian law.
We rent space at https://www.directhouse.no/ in Arendal, which is our own online store. The warehouse sends out orders every day by 1pm. We go from home-built shop to professional Google and So Me optimized pages. We will increase sales to 5 million in 2023 in the online store.
Then the export starts..
The purpose of this issue is to build a professional organisation, which can take the company on the stock exchange within 3-5 years (value 250 M?), as a leading healthy energy supplier based on marine residual raw materials.
The shares are registered in a separate system where all board papers, transactions, purchases and sales take place. This system is called www.adminflow.no , which you get access to when you buy shares, and which is synchronized with Altinn. There are currently 3,184,630 shares in the company. This increases by between 50,000 and 750,000 shares after the issue, in spring 2023. Our LEI number is: 254900N7EBQQMT1D8M78.
The company has so far spent 5 million. on and develop designs, recipes, analyzes and trial sales, and is ready for scaling. We therefore have a carry forward deficit of NOK 3,213,406.
What will the capital be used for?
The money we receive from this share issue will primarily go towards the development of existing production, sales in new markets and product development. In this way, we will be able to achieve a faster expansion, so that we can achieve our goals – to create a strong brand internationally. See the investment budget here:
INVESTMENT BUDGET
Factory equipment: NOK 2,000,000
Online shop and automated campaigns: NOK 500,000
Employee buffer: NOK 2,500,000
Lacquered boxes: NOK 3,300,000
Marketing NOK 1.000.000
Total: NOK 9,300,000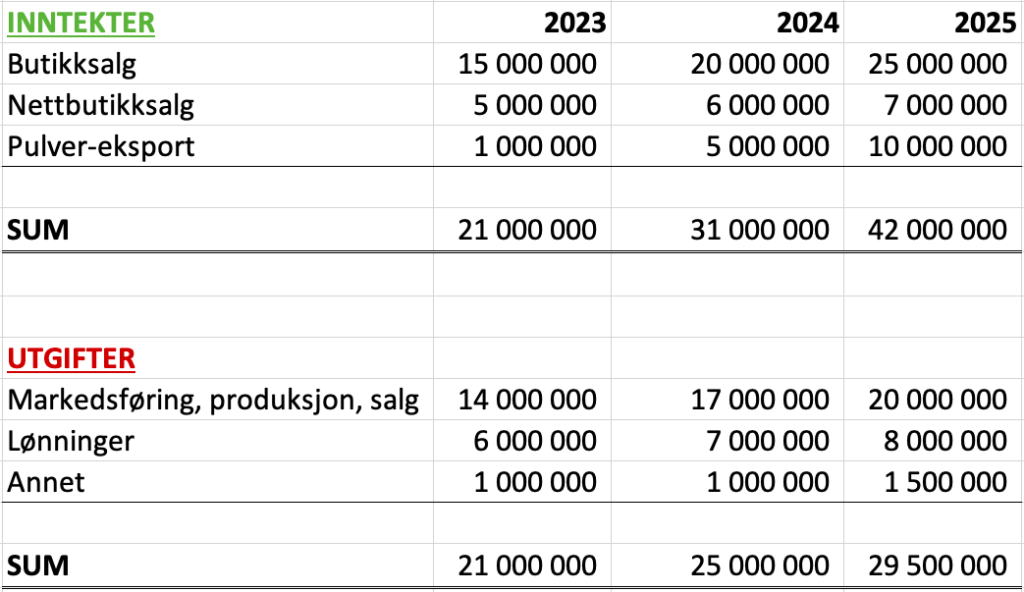 Our product mix, spring 2023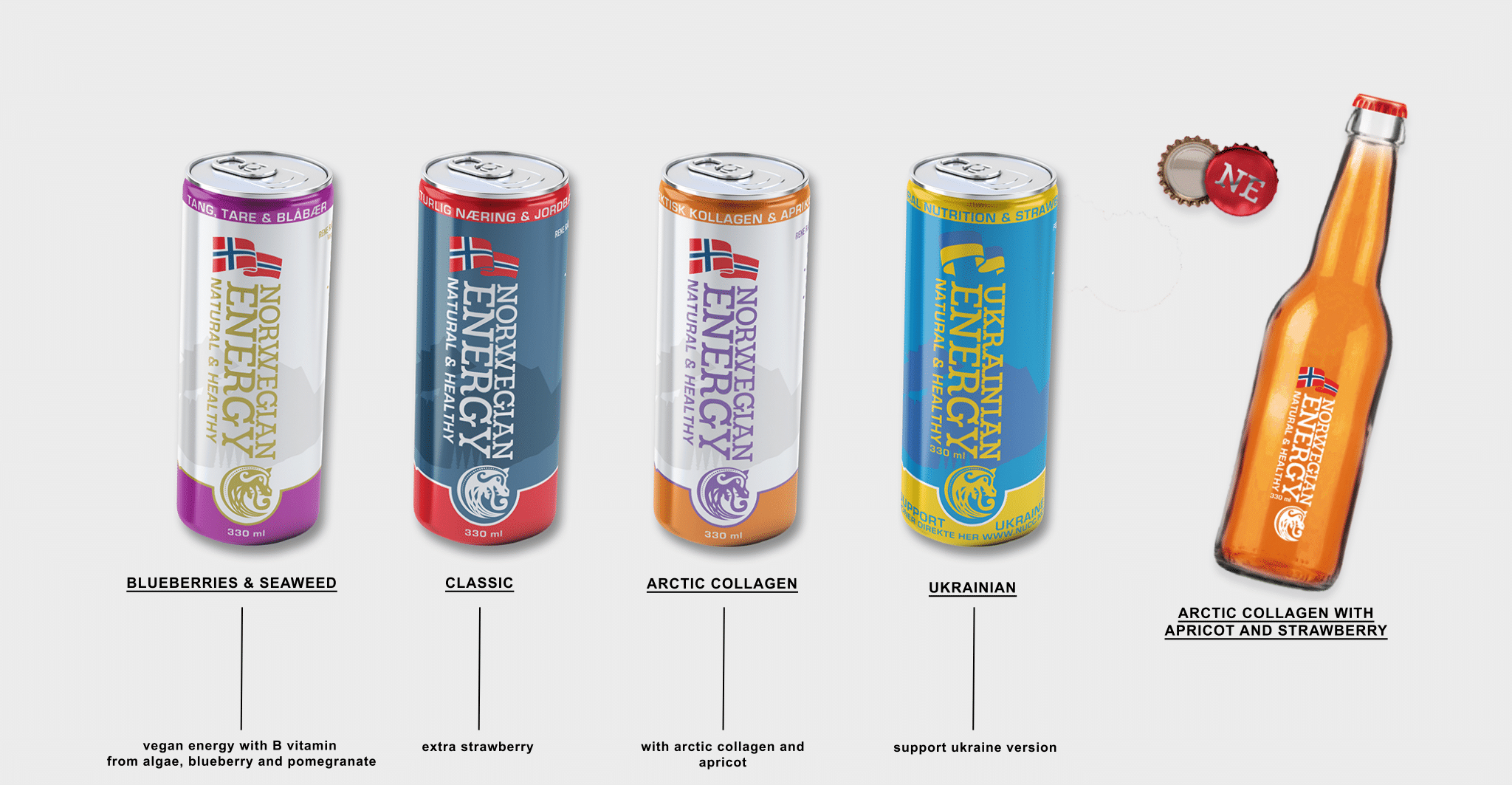 There will also be a slightly more "exclusive" glass bottle minted in bars, cafes and hotels. This should help raise the perception of Norwegian Energy as a clean product. It is based on our apricot & collagen drink with strawberries grown in the Lyng Alps.
We have completed the world's first plant-based and vegan energy drink based on blueberries and kelp from the Lyngenfjord. Analyzes show that the drink is a source of B vitamins, omega-3 and contains many of the nutrients you otherwise find in vegetables. Norwegian Energy's test panel with 5 members aged 18-22 claims that the taste of the drink with even more blueberries will be an attractive competitor to Monster. At the same time, we are 100% sustainable with a new plant on the drawing board. Residues from kelp processing go to electricity and heating the premises.
The way we produce raw materials also contributes to the environmental footprint of shipping the products being considerably smaller. Here you can read important information about the way forward and see pictures of the equipment that will enter the factory.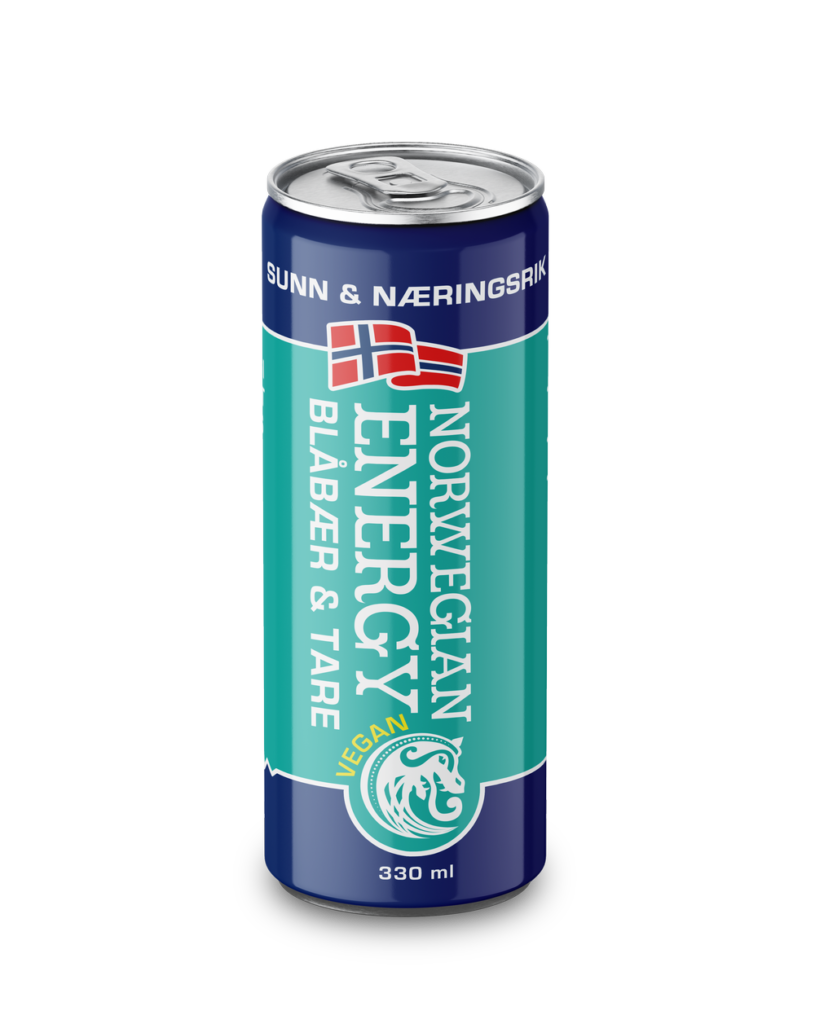 Vegan seaweed and kelp with traces of vitamin B and omega-3
A new TV series with Captain Mads is planned: "Oppdrag Finnmark". Previous (current) TV series are rolling in 20 countries. TV series
We are introducing an "Explorer bus" that travels across Norway and promotes Norwegian Energy.
We are aiming for 10 festivals with fresh nature and sports that we would like to participate in, preferably such as Fresn, Malakoff and Vinjerock.
Own export manager responsible for brewery book with analyzes and approvals.
Make powder for the defense industry and developing countries, evaluate own employee.
Invitation to board work for co-owners.
Patents & Trademarks.
Applications for support from Norgesgruppen and Enova.
MB steps down as general manager and then works as marketing manager.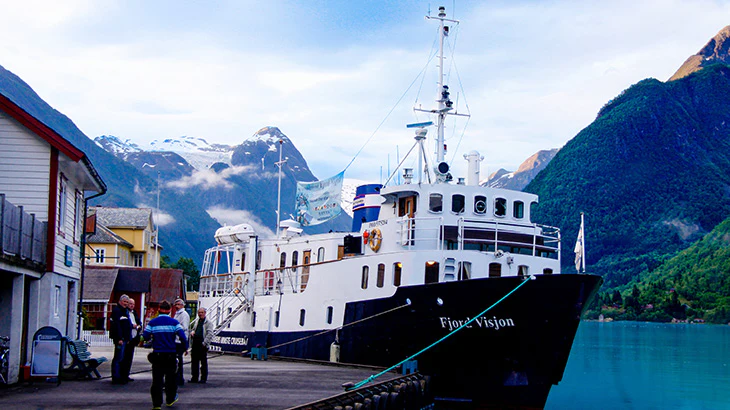 One of the most important tasks is to clarify the message and secure our position:
People want less "politician talk" and less pollution of society, more clean healthy products with social responsibility, and Norwegian Energy hits the beginning of a global megatrend with its focus.
1. Agreement with the Norwegian group and talks with Coop and Rema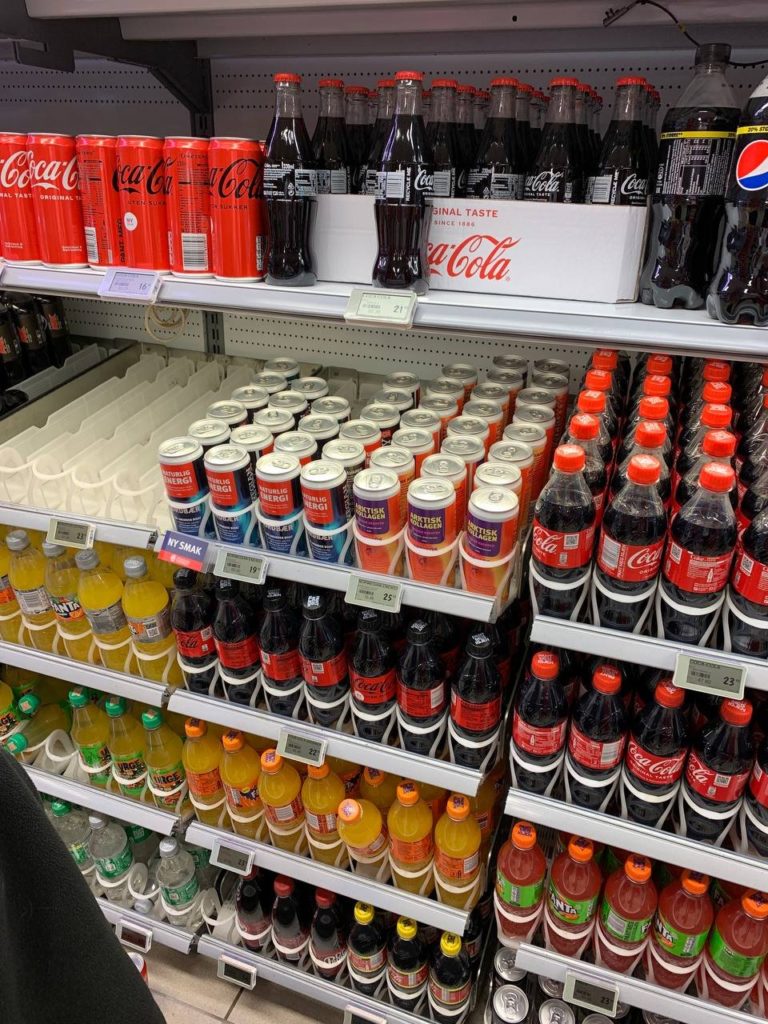 Nice location in a Spar store (Bergen)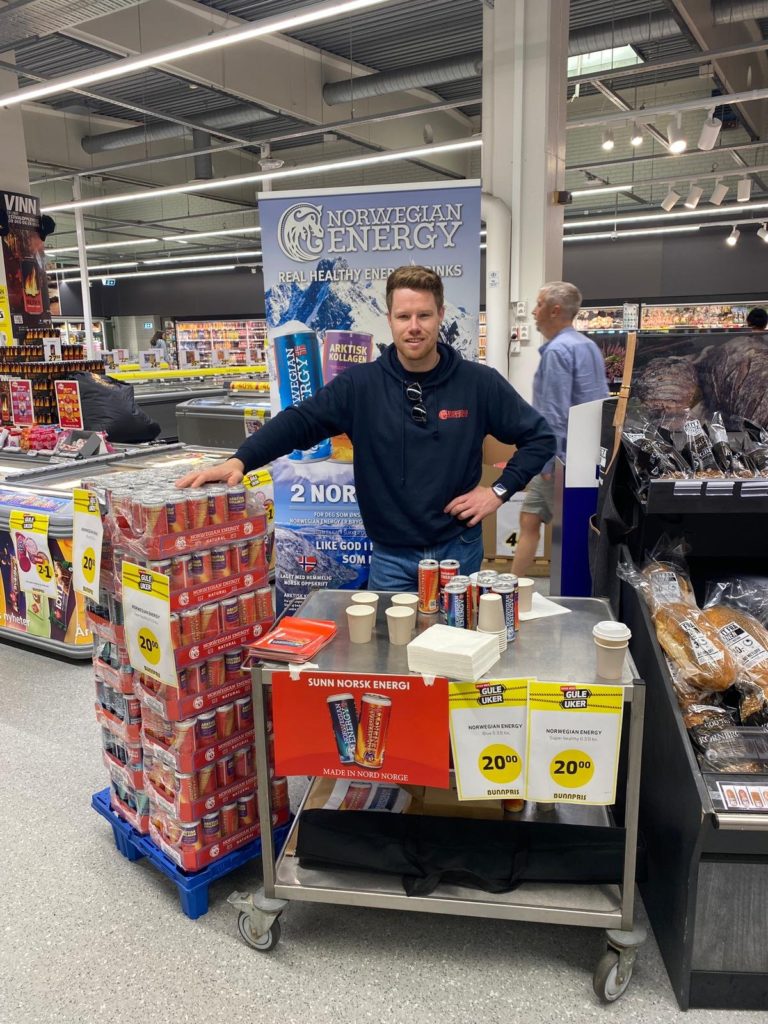 Norwegian Energy with a demo in the Bunnpris store in Trøndelag
Norwegian Energy is available in several Meny, Spar, Joker and Bottom Price stores around the country, but you can also find us in some Coop stores such as the large Coop OBS stores in Harstad, Tromsø and central Bergen. The products are also available in a number of independent outlets. Sales are to be intensified with our own sales representative in Oslo.
Lerøy France has been delivered a mixed pallet with the different versions of Norwegian Energy, with a focus on arctic collagen and kelp drinks. This is presented to store chains such as https://www.carrefour.com/en and Primex https://en.nicelocal.fr/paris/shops/primex_international/ but also presented in Lerøy's display store to all small and large customers.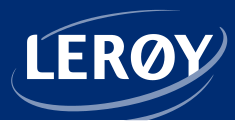 2. Development of new products
We work e.g. together with Nofima and a wide range of the Norwegian aquaculture industry on the development of new healthy varieties, so that we can utilize raw materials that otherwise risk being unused and thus utilize the fish 100%.
For hectic office days, we also develop a tablet that tastes good, provides "instant energy" and better health.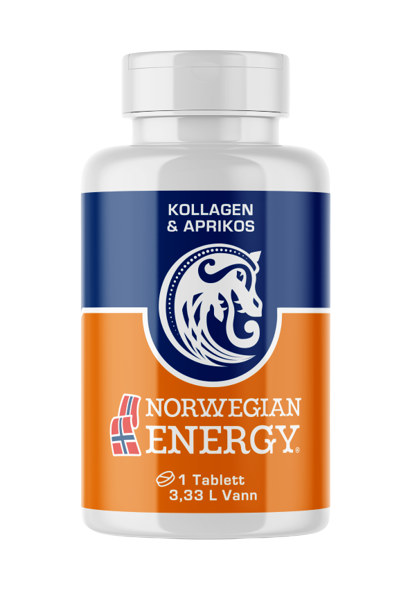 3. The main characters on the team
Captain Mads Bækkelund , with an MBA from the University of Bath, is one of the main characters in the TV series Oppadrag Sognefjorden and Oppadrag Nord-Norge, which are broadcast on NRK1. The concept in the TV series is that Mads takes well-known extreme sports athletes on a boat trip over several weeks, where they challenge themselves and each other. The TV series was a hit and is broadcast in over 20 countries, and it was during the filming of Oppadrag Nord-Norge that the idea of a healthy energy drink arose. Mads observed a lot of unhealthy drink being consumed by the athletes, and decided to do something about it. Mads went down into the boat's galley and began to experiment. There has been a lot of trial and error with various raw materials and mixtures before we have managed to find the good taste that we offer today. Mads is currently the general manager of the companies, but will hand over the helm to an industry expert in the new year 2023.
LinkedIn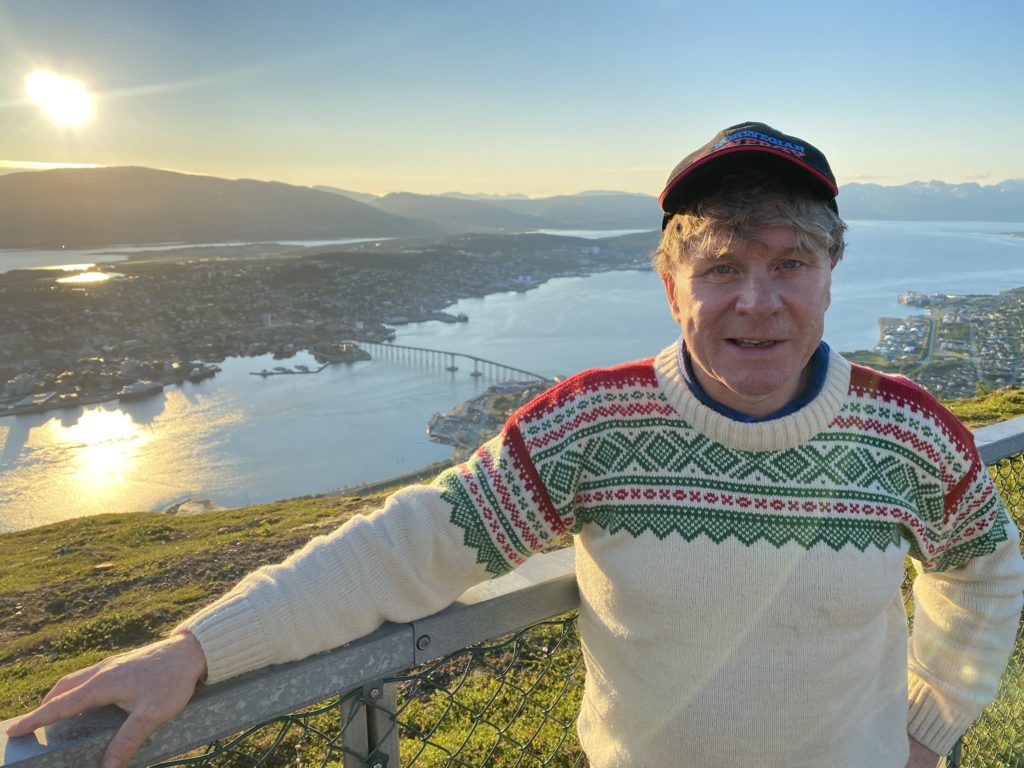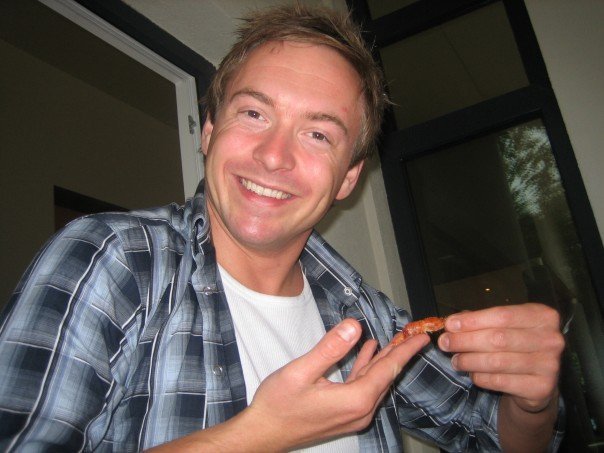 A new board consisting of co-owners and industrial partners will now also be elected, already today you will find a professional team consisting of breeder Ole Marius Farstad and category manager Bjørn Christian Østrem on the board of Marin Energy AS.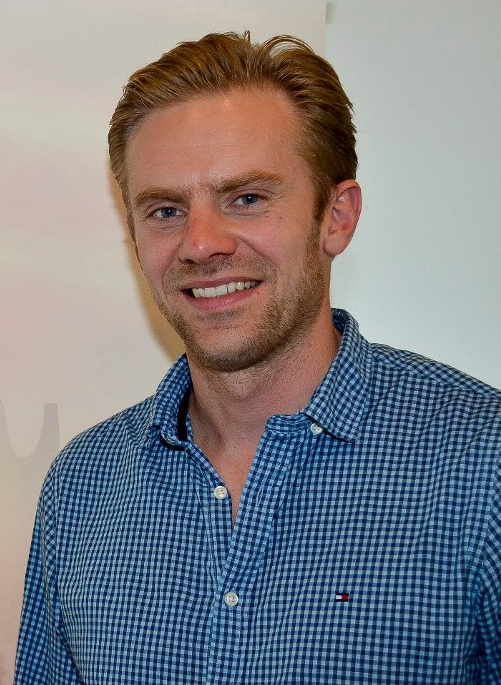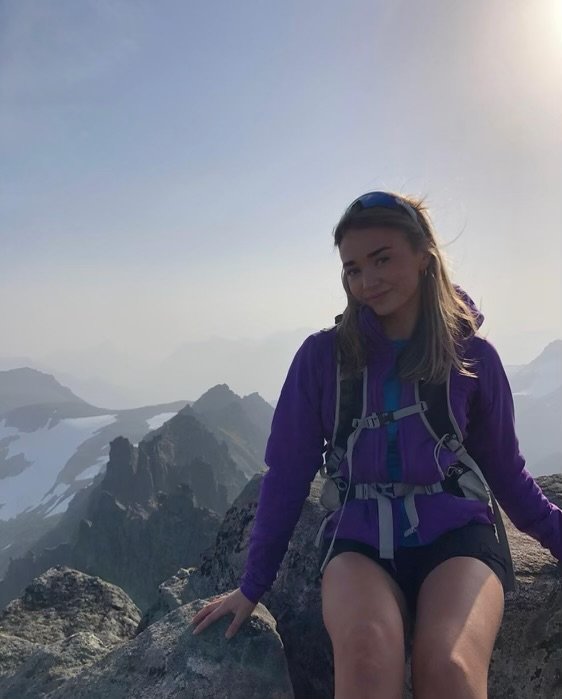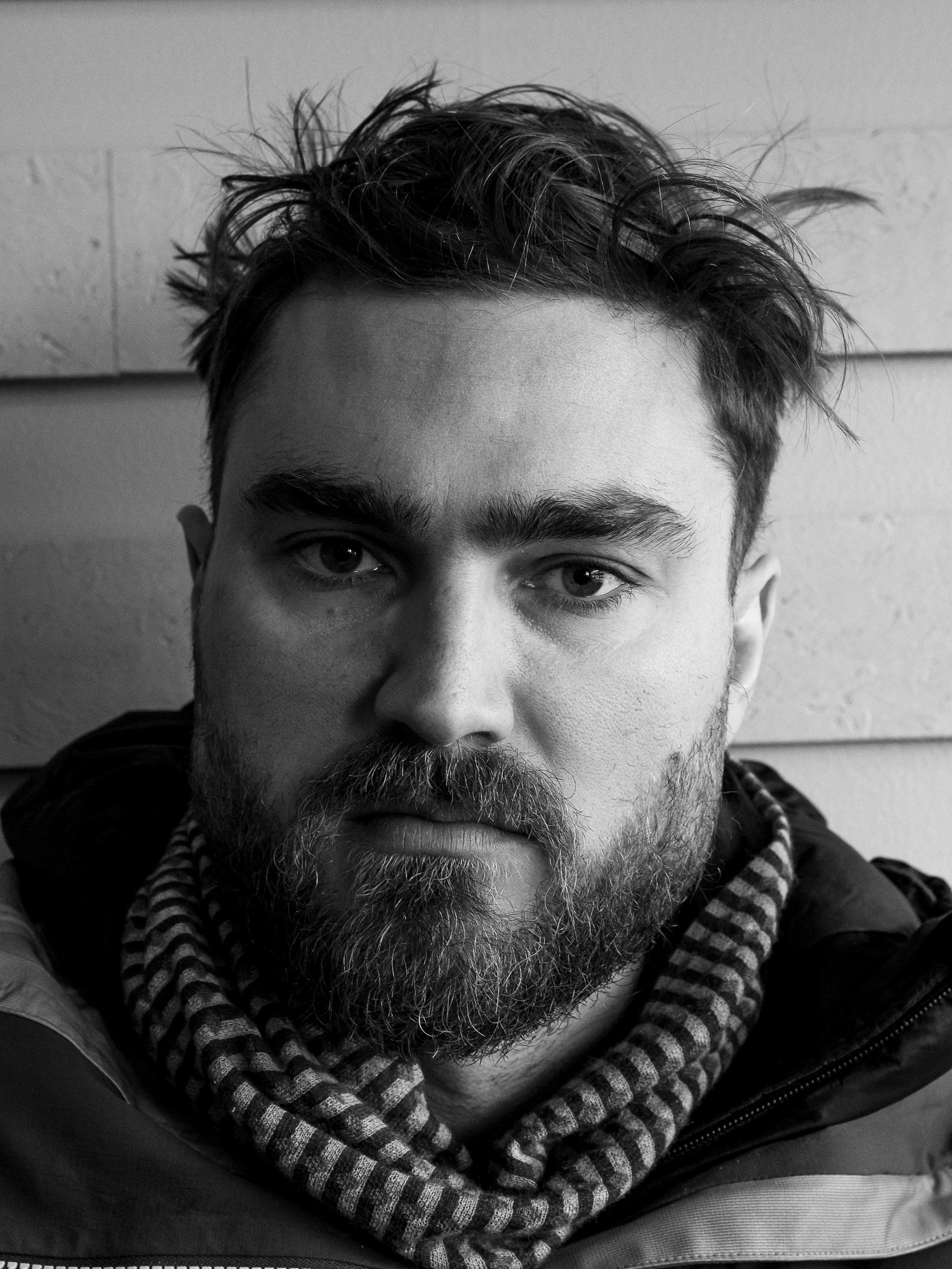 Social media team, film photography and promotion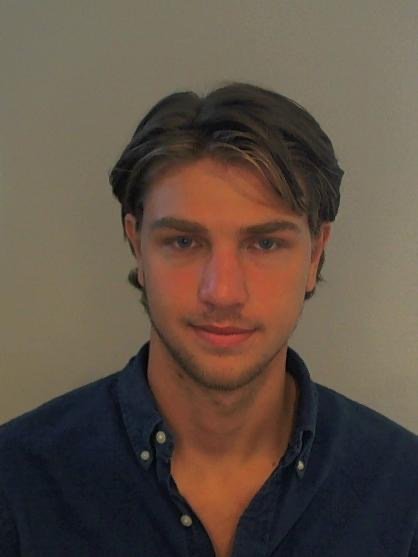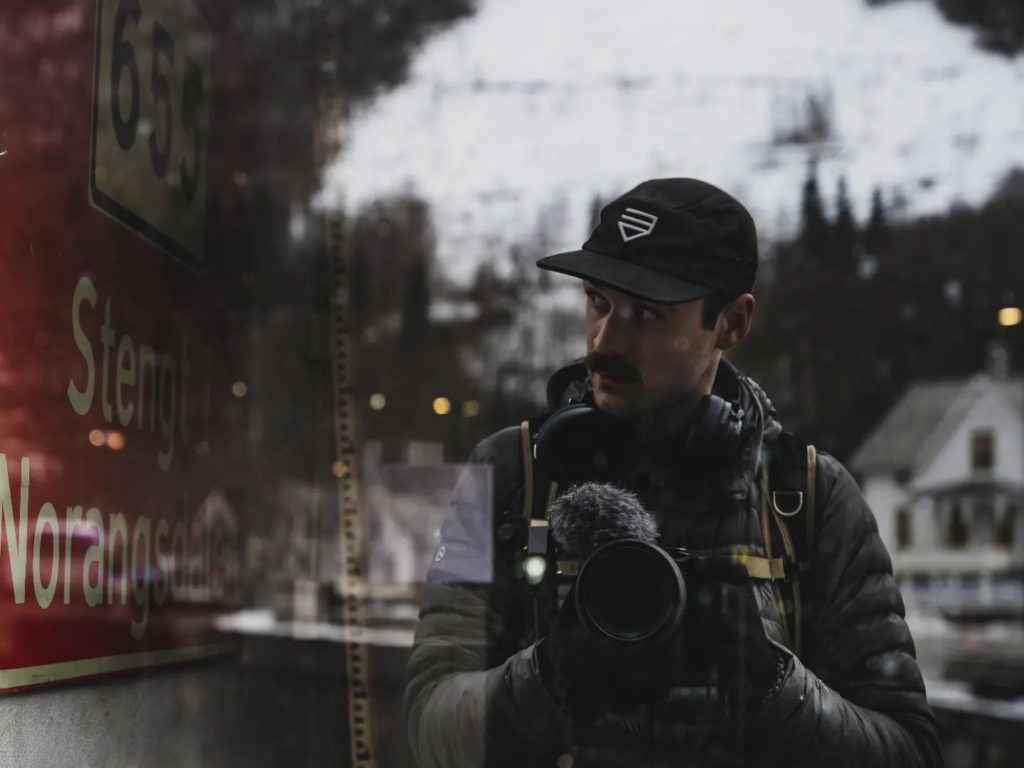 Alex Baker, social media team, film photography and promotion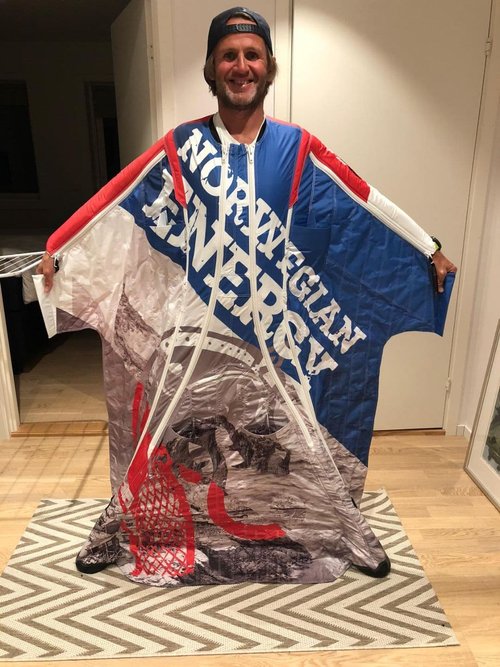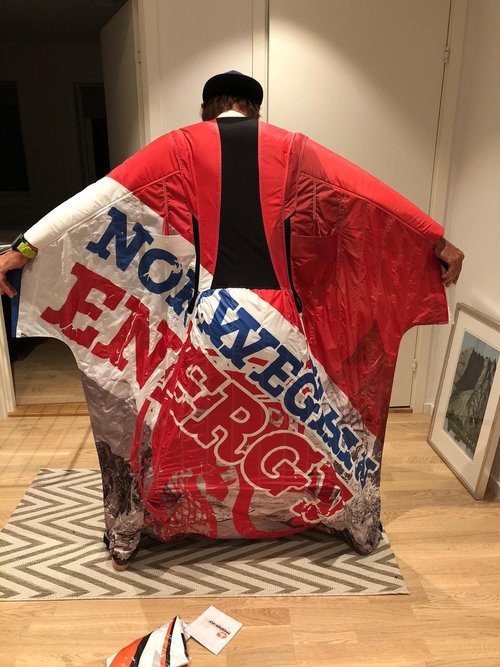 Jokke Sommer was one of the athletes who took part in both TV series. Mads and Jokke got in good contact during the recording and have taken care of the good atmosphere between them. Jokke is currently fronting Norwegian Energy through base jumping. He is a raw athlete who we are very proud to work with, here you can see why Jokke decided to switch to healthy Norwegian energy from Norwegian Energy. Together, this duo occasionally travels around and fronts our company through, among other things, making cool and professional film clips, and talking to other extreme sports athletes and entrepreneurs.
We are also creating a "Fjord Explorer Club". This means that we will create an app where you can collect points you get by buying Norwegian Energy. These points will be received by scanning a QR code inside the box, which can then be used as partial payment for "merchandise" and/or go on an explorer cruise in the fjords. (Under development). This will make it extra attractive for cooperating foreign breweries to work with us.
The extreme sports environment at Voss and http://www.skydivevoss.no/ have cut out all synthetic energy drinks and switched to Norwegian Energy.
Say hello to Otger Van Der Aker from Arnhem, the Netherlands, who has established Norwegian Energy NL. He now negotiates with the grocery chains in the Netherlands.
Hello / Good day, First of all I will introduce myself, my name is Otger van den Aker, 30 years and living in The Netherlands. I came across Norwegian Energy during my search on the internet for a great new Natural and Healthy Energy Drink for the Dutch Energy Drink market and I was immediately sold about your product. You have an amazing concept.
I had worked for 2 years for Red Bull Netherlands as Rayon Manager. I was responsible for recruiting new customers and maintaining existing customers. I had to take care of new distribution at the market within Sport, Supermarkets, Petrol, At Work and Horeca (Bar, disco and restaurants). Because of this work experience I know well what it is like to put an energy drink on the market and which promotional material and promotions appeal to customers. I also know well how the Dutch market responds to news about energy drinks and how we can respond to that. And of course I know the story about Red Bull and how it became so big. I see Norwegian Energy as a good product with which we can and must conquer the Dutch Energy Drink market and I would like to be co-head there to achieve that. I hope that you give me the change!
Let's keep working together and make Norwegian Energy Drink big!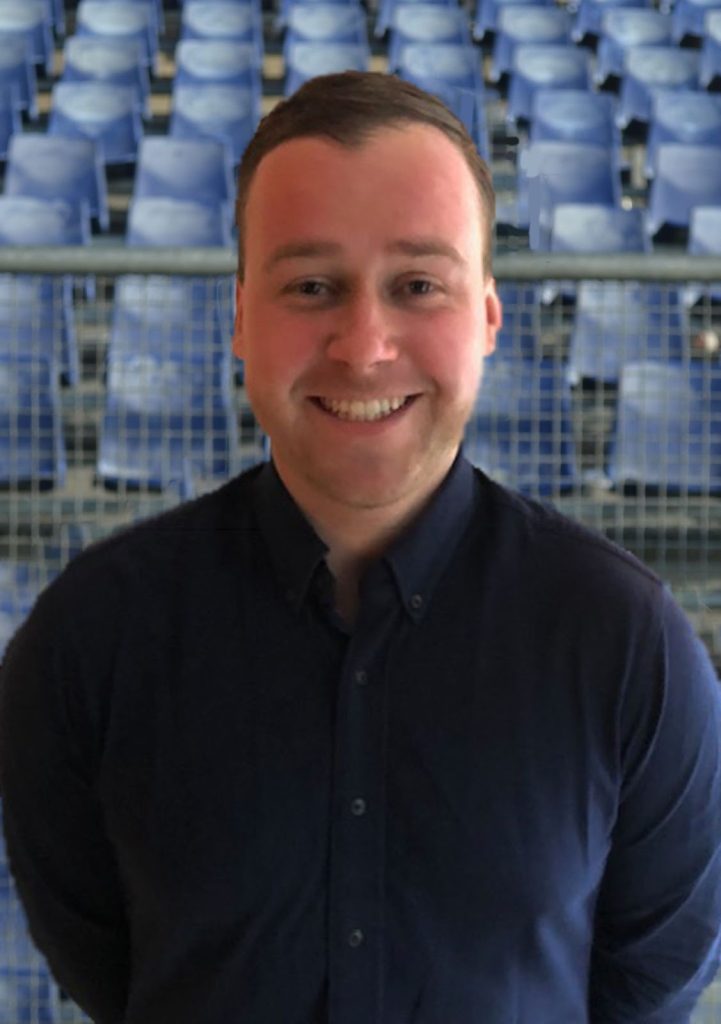 Local production and local jobs are important to us. That is why we produce Norwegian Energy at Arendal's brewery and build a factory in northern Norway. Our head office is centrally located in the center of Tromsø at FLOW .
5. Professional, structured and transparent finances
The accountant is www.storetvedt.no . Partners and co-owners get 24/7 access to accounts if desired, and reports are sent out regularly.
The partners meet once a year on an Explorer cruise in Lofoten with Mads Bækkelund as Captain.
Call or write to Mads if you have any questions!
You can contact Mads Bækkelund directly on +4792163985, mads@norwegianenergy.com or social media @norwegianenergy to discuss opportunities, or sign up here:
The adventure Norwegian Energy started during the filming of the iconic NRK TV series Oppadrag Sognefjorden , where Captain Mads takes extreme sports athletes and skiers on the boat Fjord Visjon to several places in the Sognefjord where the athletes challenge mountains and nature. The series was a success in over 20 countries, but Mads also had another idea. Why did so many contestants go around pouring themselves unhealthy, synthetic energy drinks?
Here you can watch the TV series: https://norwegianenergy.com/tv
Later, Mads set out on new adventures with extreme sportsmen and skiers, this time with a mission to Northern Norway. Here, too, Mads noticed that the athletes drank an unhealthy, synthetic energy drink. Surely this was not very good for health, and could there be a market for healthy energy?
The first energy drink was created in the galley on Mads' boat. With fresh apples, carrots and ginger. Sample bottles were bottled at , http://www.balholm.no as Ekstremsport Limonade, but did not catch on among the youth. Mads had to return to the kitchen counter. The code was cracked with mixtures of strawberries, raspberries and apples with added yerbamate tea as an energy source. The same type of tea that the Argentine national team drinks before and during the matches! The combination created a tasty and healthy mixture that is suitable for those who want a drink based on pure ingredients that provide healthy energy, good nutrition and better health. The drink changed its name to Norwegian Energy, and is now bottled in recyclable aluminum cans.

We have also launched a special collaboration with the world's northernmost distillery "BIVROST north of Tromsø", where we have developed a very special strawberry Gin cocktail with 4.7% alcohol with the working title: "always after ski". Bivrost is otherwise known for its award-winning whiskey which achieves great acclaim, even in the company of its more famous Scottish brethren. Together with Bivrost, we have a program where we visit ski resorts with a drink menu, and we find that "Arctic collagen with vodka" can become a trend drink. The popular nightclub https://www.kafe.pust.io/ in Tromsø often sells 150 drinks on a weekend, and we have deliveries there every week.
Below you can see how we envision the new label to look. With the slogan "ALWAYS AFTER SKI", we aim to be the drink leader at Norwegian ski resorts.